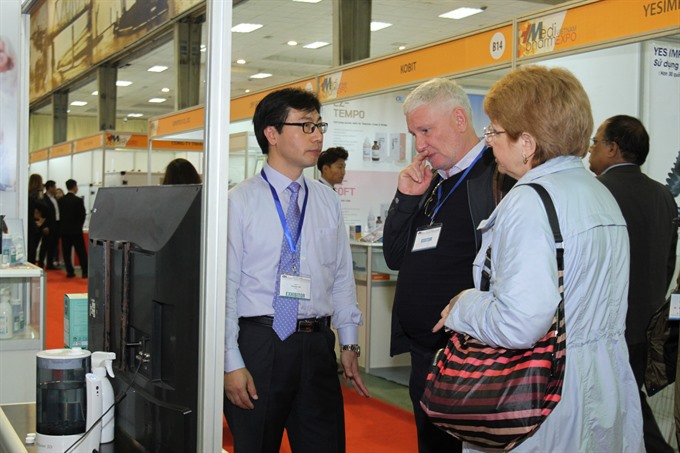 Participants at Việt Nam MediPharm Expo 2017 in Hà Nội. — Photo Vinexad
HÀ NỘI — The 25th International Medical, Hospital & Pharmaceutical Exhibition (Việt Nam MediPharm Expo), slated to take place in Hà Nội from December 6 to 8, promises to showcase new products and technologies.
The three-day event, to be held at the Hà Nội International Exhibition Centre, will have around 250 booths by 200 enterprises from 18 countries and territories including India, Canada, Czech Republic, Taiwan, Germany, South Korea, Iran, Malaysia, USA, Pakistan, Thailand, China, Switzerland, Qatar and Việt Nam.
Việt Nam Medipharm Expo 2018 is an annual event sponsored by the Ministry of Health and Việt Nam National Trade Fair and Advertising JSC (Vinexad) in collaboration with Việt Nam Pharmaceutical Companies Association.
The products are diverse, including medical equipment, laboratories, hospital equipment, pharmaceuticals, beauty products, pharmaceutical machinery, dental products, ophthalmology and health travel.
In an effort to expand co-operation in the field of medical services, the Busan Economic Promotion Agency and Busan Metropolitan City (South Korea) collaborated with Vinexad to organise the "Busan (Korea) Medical Tourism Industry Exhibition" in concurrence with Việt Nam Medipharm Expo 2018.
The Busan Medical Tourism Industry Exhibition 2018 will be held in Hà Nội for the first time with the aim of promoting opportunities for health care service and patient exchanges between Việt Nam and Korea.
Busan is a city with a high standard of medical infrastructure, including four specialised university-based hospitals, 27 general hospitals and 4800 other specialised hospitals and clinics. The exhibition will be attended by 40 businesses from Busan including medical institutions, hospitals with high quality medical tourism services and pharmaceutical businesses.
"We hope the Busan Medical Tourism Industry Exhibition 2018 will attract more foreign patients, creating business opportunities for Busan's medical enterprises," said Oh Keo Don, Mayor of Busan City. — VNS

Link: https://vietnamnews.vn/economy/468574/medical-expo-to-kick-off-in-ha-noi-in-december.html#HYHI0K7RaX5QfU00.97